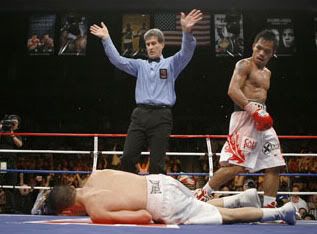 Manny Pacquiao won KO in round 9 against David Diaz. You will see in the photos below that from the face of Diaz, he has suffered a lot from the fight and for Pacquiao, he became the very first Asian to hold 4 world titles. David Diaz had cuts in his eyebrow and blood continues to flow through it. Diaz's face was dripping blood by then, and both fighters' white trunks were shaded pink by the eighth, when Pacquiao battered Diaz relentlessly. After Pacquiao's decisive punch in the ninth, referee Vic Drakulich stopped the bout before even counting to 10. Pacquiao tugged on Diaz's arm in compassion before leaping onto the ropes in celebration.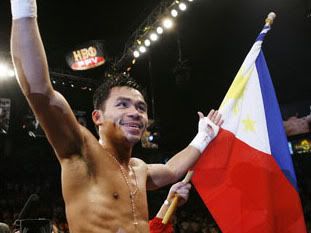 Pacquiao threw 788 punches to Diaz's 463, also landing 10 percent more of his blows. Pacquiao jabbed well, with remarkable discipline for an instinctual brawler, but Diaz was hurt most by the 180 power shots that connected. For more info about the fight, please visit, here.


1 Comment:
Mhaye said...

July 3, 2008 at 2:50 AM

 

pacquiao makes filipinos proud!